Carbon Fiber Dreams
---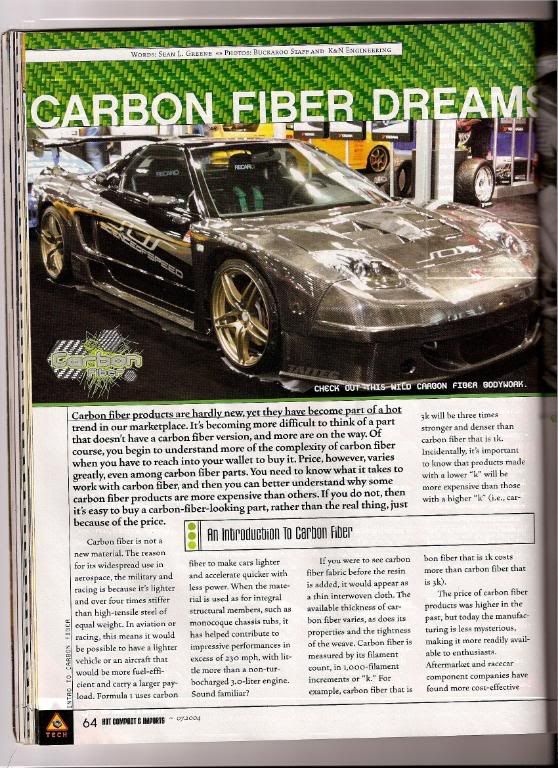 An Introduction to Carbon Fiber
Carbon fiber products are hardly new, yet they have become part of a hot trend in our marketplace. It's becoming more difficult to think of a part that doesn't have a carbon fiber version, and more are on the way. Of course you begin to understand more fo the complexity of carbon fiber when you have to reach into your wallet to buy it.
Price, however, varies greatly, even among carbon fiber parts. You need to know what it takes to work with carbon fiber, then you can better understand why some carbon fiber products are more expensive than others. If you do not, then it's easy to buy a carbon-fiber-looking part, rather than the real thing, just because of the price.
Carbon fiber is not a new material. The reason for its widespread use in aerospace, the military and racing is because it's lighter and over four times stiffer than high-tensile steel of equal weight. In aviation or racing, this means it would be possible to have a lighter vehicle or an aircraft that would be more fuel-efficient and carry a larger payload. Formula 1 uses carbon fiber to make cars lighter and accelerate quicker with less power. When the material is used for integral structural members, such as monocoque chassis tubs, it has helped contribute to impressive performances in excess of 230mph, with little more than a non-turbocharged 3.0L engine. Sound familiar?
If you were to see carbon fiber fabric before the resin is added, it would appear as a thin interwoven cloth.
The available thickness of carbon fiber varies, as does its properties and the tightness of the weave. Carbon fiber is measured by its filament count, in 1000 filament increments or"k". For example, carbon fiber that is 3k will be three times stronger and denser than carbon fiber that is 1k
. Incidentally, it's important to know that products made with a lower "k" will be more expensive than those with a higher "k" (i.e carbon fiber that is 1k costs more that carbon fiber that is 3k).
The price of carbon fiber products was higher in the past, but today manufacturing is less mysterious, making it more readily available to enthusiasts. Aftermarket and racecar component companies have found more cost-effective ways of manufacturing carbon fiber products, making the parts somewhat more reasonable (yet still pricey).
---
Sponsored By: Columbus Body Works / ARK Performance / Modern Automotive Performance / Forged Performance
---
Last edited by Tufast; 07-19-2009 at

10:06 PM

. Reason: spelling
In the sport compact world, the beauty of carbon fiber is the fact that no matter what color your ride is, carbon fiber seems to fit in. The latest trend seems to lean toward replacing factory body panels with carbon fiber body components. And to think this all started with carbon fiber hoods as an alternative to fiberglass. When you consider that much of these parts are going on street cars, it would seem that this keen interest in carbon fiber is fashion-based. Let's face it, fiberglass isn't as cosmetically appealing as carbon fiber. Plus, fiberglass must be painted, whereas most tuners leave the carbon fiber "weave" in its raw form, since the products are finished with a gelcoat and are ready to install as is. Much of the allure of carbon fiber is not in its physical properties, but the exotic look that is associated with high-output performance.
While most everyone desires to have carbon fiber parts on their cars, not nearly enough people know much about the parts they buy, other than they are lightweight and look cool. Good looks may be all it takes to convince someone to purchase a carbon fiber product, but if you have spent time researching the topic, then you know that prices range from the way cheap to the very expensive. And this difference is for a good reason: not all carbon fiber products are created equal.
Remember: When dealing with exotic materials that we know little about, it is easy to get duped. Sometimes you may buy a product that isn't carbon fiber at all, but a part made to look like it. Now mind you, there is nothing wrong with an imitation or lookalike product; they certainly have their places int the market. But don't pay for these parts if you think you are getting the real deal. We're going to arm you with some information here so you know whether you are getting the real McCoy or a poser.
Let's start by clarifying the differences. It is very possible to purchase a hood made from 100% carbon fiber, and there are varying degrees of quality, even between the supposedly same carbon fiber hoods. The manufacturing process and the materials used can vary a great deal. You may find a composite (fiberglass) hood, layered with a topcoat of carbon fiber or carbon-fiber-like material. Some companies charge big bucks for these hoods, claiming them to be carbon fiber. In a way they are, but if you are looking for a 100% carbon fiber hood and are not careful you could be taken.
---
Sponsored By: Columbus Body Works / ARK Performance / Modern Automotive Performance / Forged Performance
---
Last edited by Tufast; 07-19-2009 at

10:07 PM

. Reason: spelling
Most companies or retailers will tell you what their products are and how they are made, so check it out before buying. Fabiracation of the carbon fiber overlay hood is far less expensive than a true carbon fiber hood; therefore, it should cost you less.
There are many products that contain faux carbon fiber, which is actually a "photograph" of carbon fiber applied to a backing material (a paper product of vinyl). Some of these parts include shift knobs, dash appliques, assorted interior accessories, even some rear wings. There are many others, too, so you have to watch your research. Just make sure that if you are paying for carbon fiber, that it is carbon fiber and not merely a resemblance.
If you like the price point of a budget product that looks like carbon fiber, there is certainly nothing wrong with that
(Rice..couph..couph)
. Frankley, it's difficult for many people to detect, with the exception of those builders who really know their parts. So, the focus of this article is not to tout the necessity of carbon fiber, but to explain there are differences among products that justify the expense.
---
Sponsored By: Columbus Body Works / ARK Performance / Modern Automotive Performance / Forged Performance
---
Last edited by Tufast; 07-19-2009 at

10:07 PM

. Reason: spelling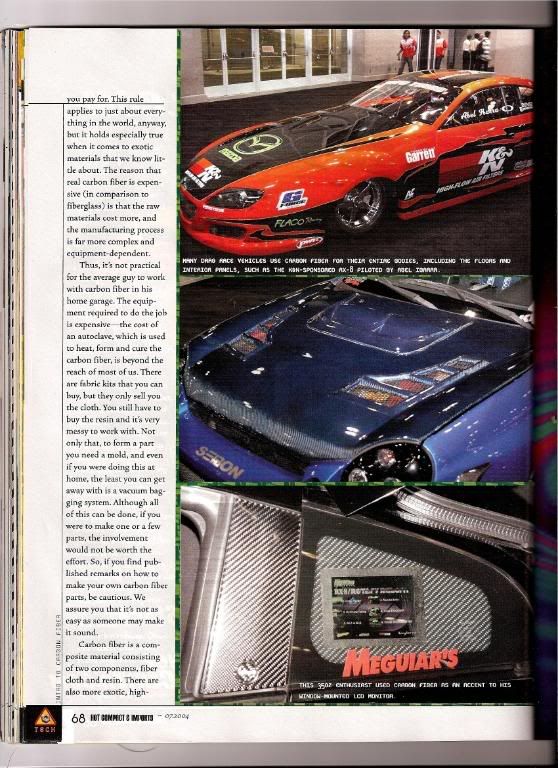 The first thing you must understand is that quality isn't cheap. Once you believe that, understand who made the part and whom you are buying the part from, then you most likely will get what you pay for.
This rule applies to just about everything in the world, anyway, but it holds especially true when it comes to exotic materials that we know little about. The reason that the real carbon fiber is expensive (in comparison to fiberglass) is that the raw materials cost more, and the manufacturing process is far more complex and equipment dependent.
Thus, it's not practical for the average guy to work with carbon fiber in his home garage. The equipment required to do the job is expensive-the cost of an autoclave, which is used to heat, form and cure the carbon fiber, is beyond the reach of most of us. There are fabric kits that you can buy, but they only sell you the cloth. You still have to buy the resin and it's very messy to work with. Not only that, to form a part you need a mold, and even if you were doing this at home, the least you can get away with is a vacuum bagging system . Although all of this can be done, if you were to make one or a few parts , the involvement would not be worth the effort. So, if you find published remarks on how to make your own carbon fiber parts, be cautious. We assure you that it's not as easy as someone may make it sound.
---
Sponsored By: Columbus Body Works / ARK Performance / Modern Automotive Performance / Forged Performance
---
Last edited by Tufast; 07-19-2009 at

10:08 PM

. Reason: spelling
More great Carbon Fiber info from the Man of CF Tufast!
Carbon fiber is a composite material consisting of two components, fiber cloth and resin. There are also more exotic, high-strength carbon fiber materials available, which are more application specific and more expensive. Like fiberglass, with carbon fiber a resin must be used to bond the cloth to make it hard, or else it would remain supple and soft. These resins are quite volatile and must be handled and stored properly, which pretty much rules out using them at home. Besides the prohibitive costs of working with carbon fiber, there are certain procedures that must be followed in order to work with it correctly and obtain the desired results.
While this is only a primer for such a complex product (for which the applications can be quite vast, depending on what product is being fabricated and how), it does illustrate that there is more than one way to work with carbon fiber. As a result, we are sure to see more and more creative applications and products made from it.
The best thing about carbon fiber is that you are only limited by your imagination when it comes to finding a new use for it, especially on a tricked-out street or racecar.
This is one trend that you are sure to see more of, and there is no reason why you cannot be a part of it since the price of admission is becoming more affordable as the parts become available. By the time you finish looking through our carbon fiber guide, you'll be having your own carbon fiber dreams.
---
Sponsored By: Columbus Body Works / ARK Performance / Modern Automotive Performance / Forged Performance
---
Last edited by Tufast; 07-19-2009 at

10:09 PM

.
Senior Member
Join Date: May 2009
Posts: 96
all i want is for someone to release a hood and trunk for the coupe thats all is that to hard... lol
you guys have a guide out already? Wheres it at lol?


P.S Why is photobucket rippin all my pics out of my posts?
---
Sponsored By: Columbus Body Works / ARK Performance / Modern Automotive Performance / Forged Performance
Senior Member
Join Date: Mar 2009
Posts: 70
Posting Rules

You may not post new threads

You may not post replies

You may not post attachments

You may not edit your posts

---

HTML code is Off

---