Yeah, here's a good example.
That shows mostly advertising on cars but I dont see why it cant be modified to show some sick graphics on a show car. And in the area, a company called Fast Signs can do it, but Im not sure of their quality.
---
"Point your gun in another direction!" - Coheed and Cambria
Junior Member
Join Date: Apr 2009
Posts: 1
is this kind of what your looking for? this car is no joke with an ls1 under the hood btw.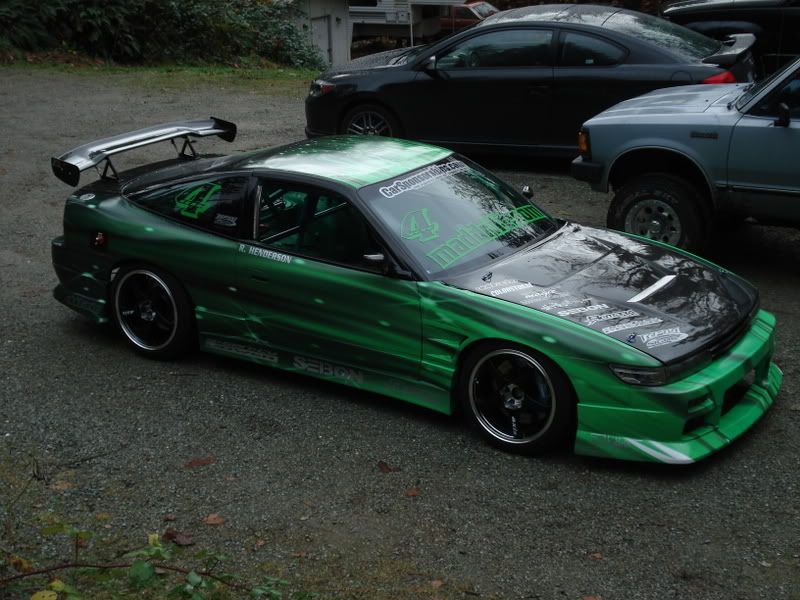 Senior Member
Join Date: Mar 2009
Posts: 55
Reminds me of Taladaga Nights. Stickers on this winsheild is probably unsafe but I do love fig Newtons.
so this is like those 7series BMWs in the movie Taxi with Queen Latifah and Jimmy Fallon!
The new term used for this is body wraps. Its becoming really popular.
Junior Member
Join Date: Jul 2012
Posts: 1
My experience working with vinyl....
---
I had my 2003 Accord Coupe wrapped from gloss black stock paint to flat white 3M vinyl. For me, when it first went on, it looked nice the way the sun hit it. My experience with 3M vinyl (probably applies to most vinyl since 3M is top of the line)...

- if your doing highway driving, your going to chip the vinyl, and when you chip the vinyl deep enough, you see the original paint underneath
- if your going to do it yourself, heat gun is a must as well as two friends (you don't have to like them, but its better if you do...)
- if your car body has a lot of deep undercuts, such is the case with a lot of body kits, the vinyl won't stretch that far, and if you stretch it far enough it'll tear (sucks when you've spent hrs working on a bumper and the $200 piece of vinyl tears)
- gloss colors fade quickly, especially in the sun, and it's depressing watching it happen....(matte might be a much better option since there's no "clear" coat on top to fade...)

If i could go back and save the $3000, i definitely would've went with a paint job and used the vinyl for any accents (like the roof, door handles, trunk.....small sections that you can easily replace if they chip or fade, and will be relatively cheap....)
Posting Rules

You may not post new threads

You may not post replies

You may not post attachments

You may not edit your posts

---

HTML code is Off

---