VIS Carbon Fiber trunk with lip spoiler
---
A vendor on another forum is working with VIS to get a CF trunk with a molded in lip spoiler produced. We need about 15 people to get it made, as mentioned above. So far there are about 5-7 people on the list. If you'd be serious about buying let em know with a comment below. I can PM the vendor information over since they aren't a vendor on this site, just let me know.
Ballpark
pricing so far is
guessed
to be
around
$800. Once I know a solid price I'll post it up.
Quote:
Originally Posted by
Tom@G&M
Folks, I just spoke with my friends at VIS Racing and they are willing to make you guys a CF trunk with a lip spoiler! :bowdown:

The only question I have is what kind of lip spoiler would you like to see in their CF mold? Show me PICS.

Once I get the general consensus, I will post a POLL for everyone to vote on. The winning vote will then be forwarded to VIS Racing and they will commence with prototyping.

THE CATCH

This is where a project like this lies in YOUR HANDS. They require that 15 people invest in the product. That means you pre-buy the trunk (which I will give you an AMAZING price for) and wait a month or two for it.

After that, VIS will add that lip spoiler trunk to their regular production line and future customers will have many thanks for those that pioneered this project!
I've seen the pics of the proposed deck lid on gencoupe & they look pretty good. VIS is known for making quality products, but I plan on slapping a huge APR wing on top of my CF deck lid & have no need for the lip. So, I won't be on the list I'm afraid & will stick with the less expensive Seibon deck lid. But, for others looking for a CF deck lid & a lip spoiler, this would be just as cheap as the combo & look even better IMHO.

Post a couple of pics of the concept deck lid if you don't mind.
Thanks
---
Sponsored By: Columbus Body Works / ARK Performance / Modern Automotive Performance / Forged Performance
These are the options up for the choosing. Basically one that sticks off the back a bit more and one that raises up without elongating the trunk as much. Both options would be fully molded like the first pics. Thoughts?
BMW / Evo style
GC BBM Style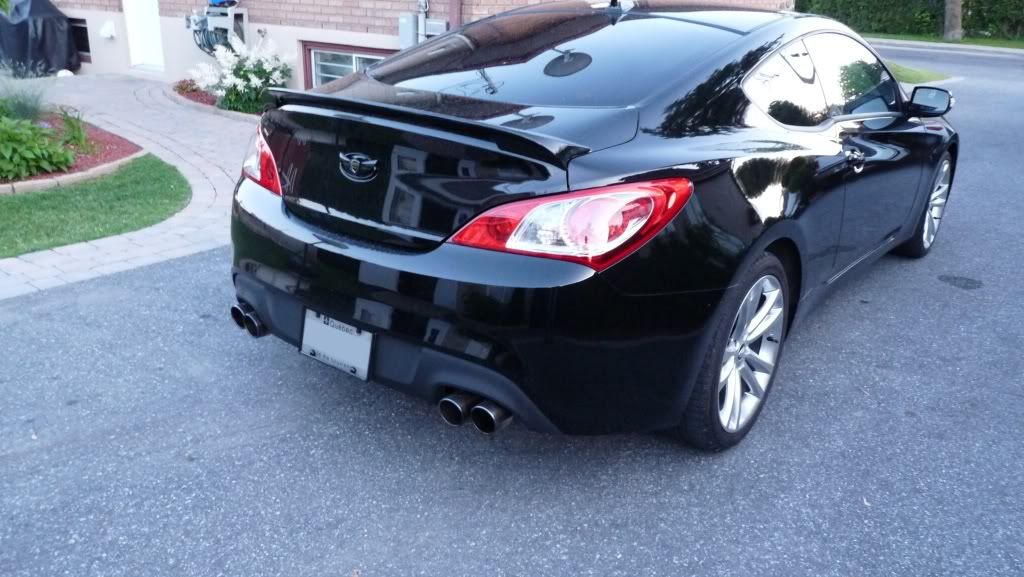 Senior Member
Join Date: Aug 2009
Posts: 78
BUMP!
---
Team 631 Motorsports
Sponsored:
ARK Performance Featuring DT-P Coilover System
G&M Performance
/|ARK Performance|G&M Performance|Sequence-X|Buschur Racing|M&S|FRIXA|Import Shark|DownShift Graphics|R Vinyl|Diode Dynamics|Lamin-X|\

Junior Member
Join Date: Aug 2010
Posts: 9
mold that thing and it'll look sick
Final decision was for a trunk similar to the BMW style in the first pic. They'll make sure it's formed to flow with the lines of the GC. It won't have an indent for the rear emblem either. This is all pending we can get ~15 people to put a deposit down though. So far the list is at like 8 people I think.
Only short a few people before it gets put into production
I want one but my coupe might be gone for me personally... I had an offer I may not be able to refuse to sell the car off.
If I keep it I will toss in my deposit
---
AGP Turbo Race FMIC, Hard Pipes & HKS SSQV, BOV Adapter/BOP, Billet Wastegate Actuator, CAI w/ Silencer Delete, Dynojet CMD, AGP 750CC Injectors, AGP O2 Housing/Cat Delete, Kevin@AGP Tune and some "Weldy" Lovin!
so it would look like the BMW one then? where do u put money down?
---
A very good engine builder once told me, "If you break her in soft, she'll only like it soft; if you break her in hard, she'll scream every time you go for a ride." So that's how I see it.

Turbo cars are like hot women. A little edgy, every guy wants one, some guys can't handle them, and if you throw a little alcohol in them they'll rock your world
---
Sponsored By: Columbus Body Works / ARK Performance / Modern Automotive Performance / Forged Performance
Posting Rules

You may not post new threads

You may not post replies

You may not post attachments

You may not edit your posts

---

HTML code is Off

---