DIY - Rear Bumper Parachute Removal
---
Disclosure: Work at own risk as this is only a guide for this project & I'm not responsible for any damage done to your vehicle or any injuries you may incur.
I give this project a 2 out of 5 difficulty. It is a little tedious & you have to take your time so you don't mangle your bumper cover, but not too terribly difficult since you don't have to remove any parts from the car other than what you are cutting out.
Tools needed are carpenter's drop chalk line, carpenter's tile knife, file, phillips screw driver, dremel tool, various grit sand paper, painters tape & paint that will adhere to plastic easily. I would also recommend a floor jack & 2 jack stands to get the vehicle up to make it easier to work on. I even got my handy roll around adjustable work chair, so I could sit down for the job.
Begin by jacking the vehicle up using the rear axle housing, also known as the "pumpkin". Once the jack is fully extended, place your jack stands at the rear jacking points & set them in place.
This is the "parachute" we are going to cut out, because it catches all the air flowing under the car creating tremendous drag.
First you will need to drop a line as a guide to cut by & I recommend getting someone to assist you with this. They will need to hold one end at the inside upper corner of the OEM exhaust outlet in the bumper cover while you hold the other end at the same exact spot on the other side. I had my beautiful fiance' help with this since she's pretty dexterious & always willing to help. Pull the line tight from each person's side & take your other hand reaching in the middle of the drop line pulling it out away from the bumper. Once it is taught release it & it will make a pop sound leaving a nice straight line to follow with your tile knife.
Once you have made your line, take your tile knife & follow the line pressing down into the plastic. At this point don't press too hard in case you run off course, because all you are wanting to do is draw a crevase in the plastic to follow. Once you complete your first pass, do another with a little more pressure, followed by another & another until you have finally completely cut throught the plastic.
After you have finished your line, you will have to trim the underside of the bumper cover where it meets the corners. Once you have completely severed the piece, remove it & the 4 mounting brackets from the from the vehicle.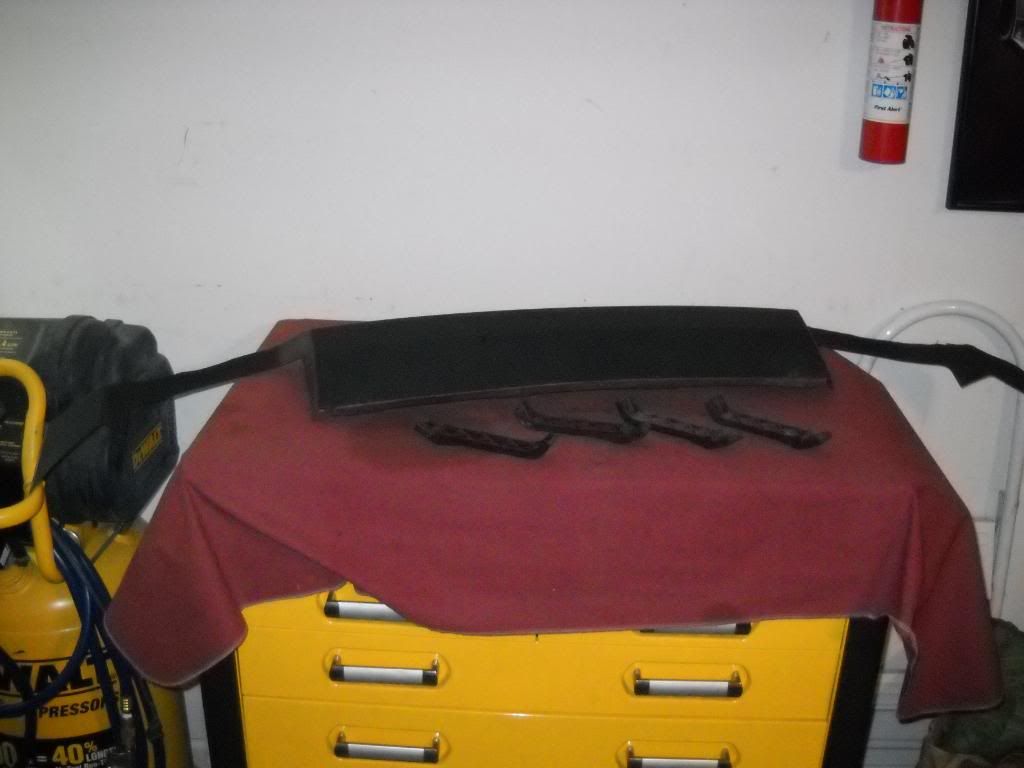 Weight savings from the portion of rear bumper trim that I removed including 2 of the plastic brackets (I used the other 2 for tag support) was only 1.5 lbs, but more importantly it the drag I removed from this mod.
Now you take your Dremel tool & clean up the dips in the plastic where you didn't cut your line quite perfectly. Follow that up with some filing along the bottom edge until you have a perfectly even edge. This takes a while to get just right & I recommend using a straight edge to lay up against the bottom where you cut to determine how straight your line is & make corrections as need be. Once you have finished filing, you can begin sanding. I started with 220 grit along the bottom edge & hit any places I slipped with the Dremmel on the rear face of the facia. I then followed that up with 320 which I used to hit all the areas I had already gone over with the 220.
Next you will take your painters tape & mask off all of the painted surfaces of your rear bumper cover along with your exhaust tips. You are ready for the final sanding, so grab the 400 grit paper & sand the entire dimpled black facia area being careful not to hit the painted surfaces of the bumper or the exhaust tips if possible. If you do slip, your painter's tape will protect those areas.
Here's some pics showing what has been removed.
Now mask the rear end of the vehicle off except where you will be painting & tack off the area you will be painting with a tack rag. Apply a light coat of paint, letting it dry a little followed by another coat lightly applied. Then let it set for a little bit about 10 minutes or so & come back to apply a thicker coat for top coat. Here's a few pics of the finished product.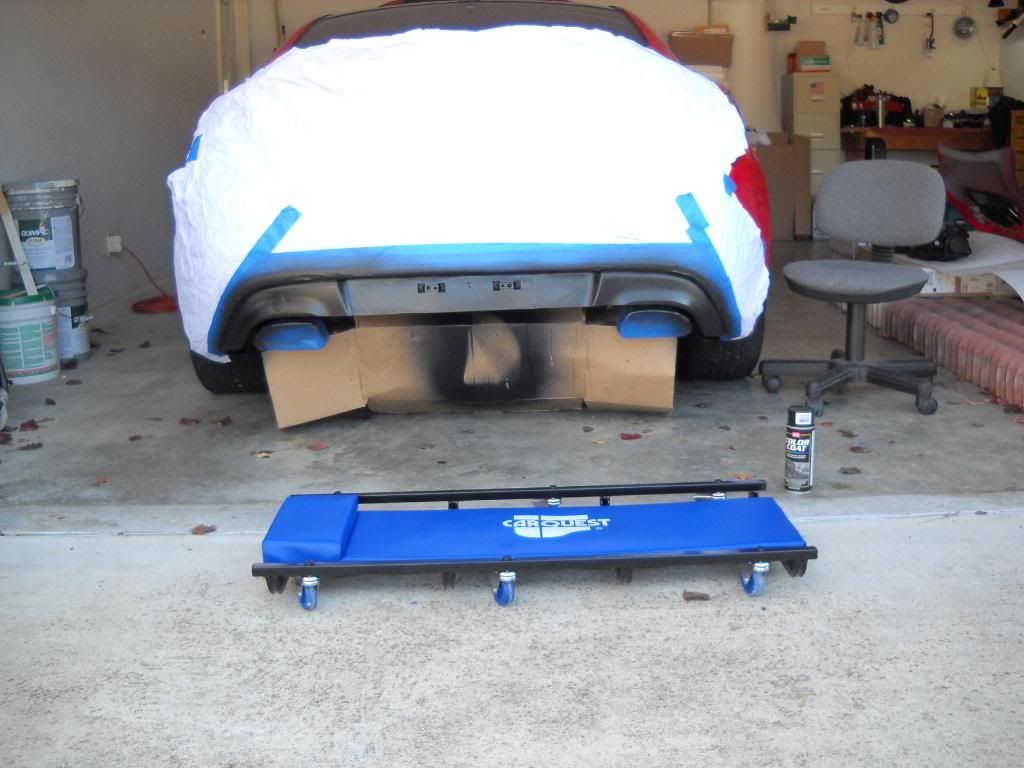 Now I'm going to install a little rubber stopper with a hole in the middle that is about an inch thick in between the remaining piece of black plastic valence & the bumper support underheath to act as a replacment for the 4 support brackets I removed. I drilled a small pilot hole in the rear bumper valence for the phillips screw to go through (well actually 2 ~ one was off mark). This little rubber grommet will act as an insulator keeping tension on the plastic & away from the bumper.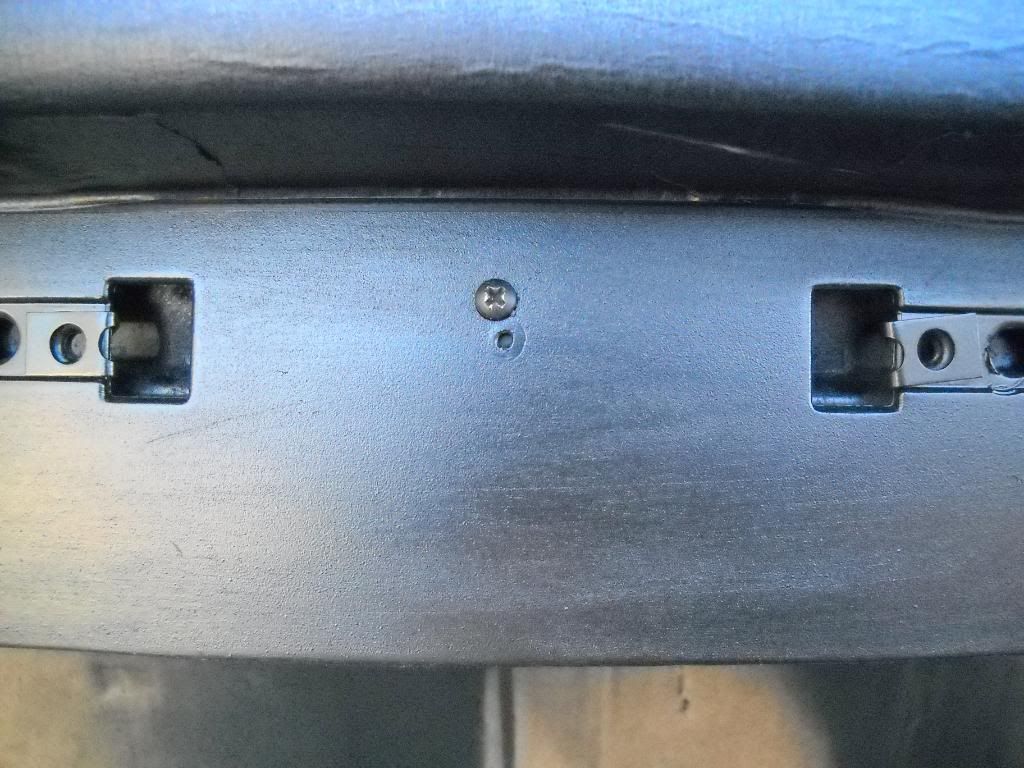 And now you can install your tag/license plate. I decided to reinforce my license plate by installing a metal flat radio bracket followed by a plastic trailer tag bracket trimmed to fit.
I noticed that the 2 of the tabs in the plastic bumper support used to mount the 4 plastic support brackets that I removed lined up pretty well with the lower bolt holes in the license plate. So I trimmed off the ends of 2 brackets & flipped them around so that the remaining hole in the other end of the bracket would line up with the hole in the license plate. Slide the screw through the lower hole of the license plate, then slide the metal radio bracket over it, followed by the plastic trailer bracket, then slide the plastic support bracket just trimmed followed by the nut & secure it.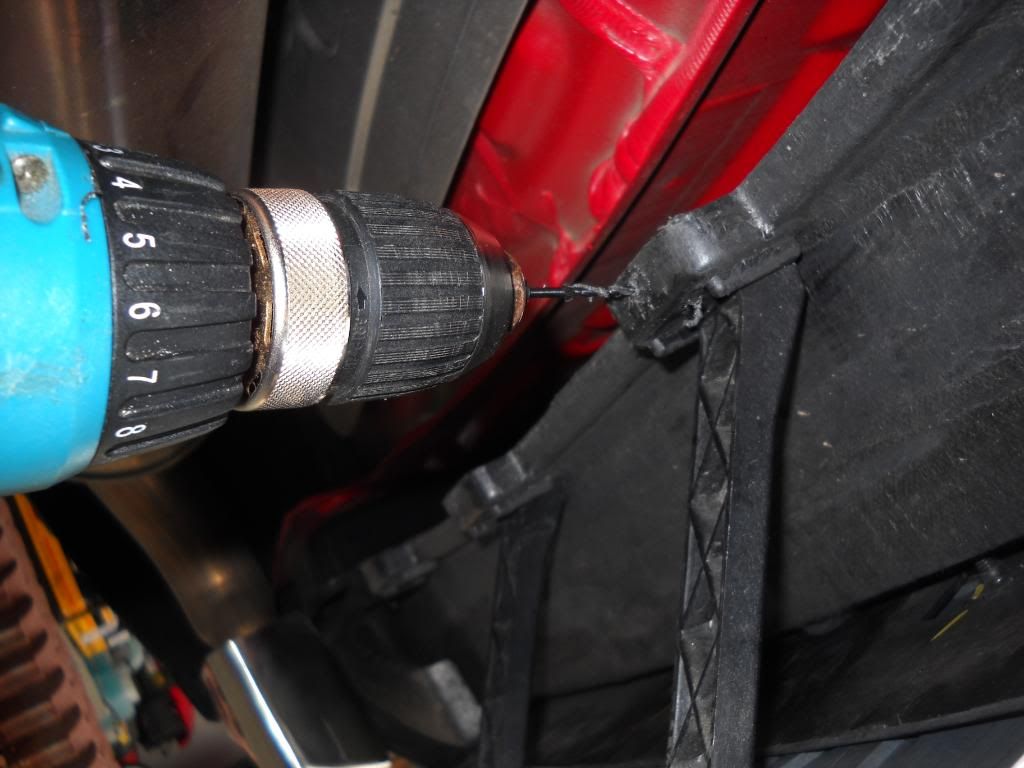 Final product
Without tag mounted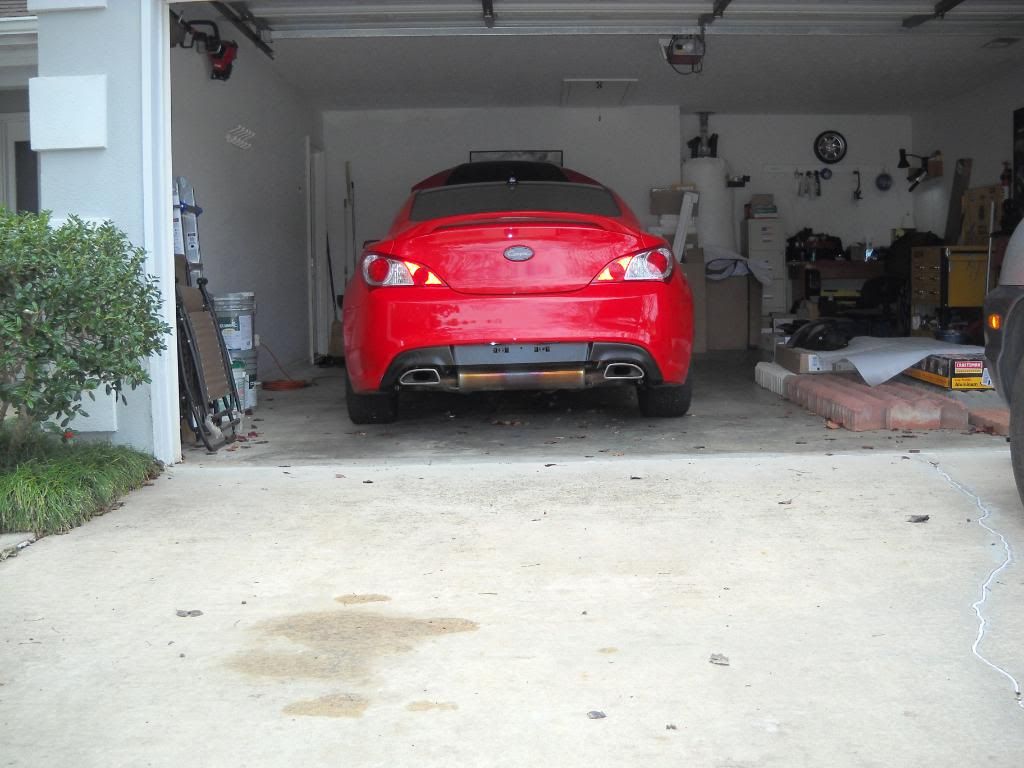 Enjoy!
---
Sponsored By: Columbus Body Works / ARK Performance / Modern Automotive Performance / Forged Performance
---
Last edited by Tufast; 02-05-2011 at

04:11 AM

. Reason: updated
Good DIY on this. Can't wait to see it painted. The end result doesn't look bad in person. I would recommend some paint for that muffler for anyone intending to keep the OEM exhaust.
---
Genesis Coupe
Bathurst Black 3.8 ZF Track
Quote:
Originally Posted by
dic51
Good DIY on this. Can't wait to see it painted. The end result doesn't look bad in person. I would recommend some paint for that muffler for anyone intending to keep the OEM exhaust.
Thanks, I can't wait to see the ARK single exit tucked away under there.
---
Sponsored By: Columbus Body Works / ARK Performance / Modern Automotive Performance / Forged Performance
Damn, nice series of DIY's. You have been busy. It does not look like you will have any time to start that paver project anytime soon!!
Thanks, yep been busy.
---
Sponsored By: Columbus Body Works / ARK Performance / Modern Automotive Performance / Forged Performance
Posting Rules

You may not post new threads

You may not post replies

You may not post attachments

You may not edit your posts

---

HTML code is Off

---