343 whp 2.0 AUTO
---
That's right, 343 whp 371 ft lbs. Below are pictures and videos of the install, tune, and final product.
Let me know what you think
Here is what's installed currently:
Evo X turbo- ported/heatcoated, upgraded actuator
Strk Intercooler Kit
DW 750 CC injectors
Synapse Synchronic BOV Kit
Wideband AFR, Trans Temp, and Boost Gauges
Strk Evo X Mounting Kit- Manifold/o2 housing/IC adapter/ hardware
FP Evo Gaskets
Grimmspeed Genesis Gaskets
Turbo XS Gt Catback
Turbo XS Full DP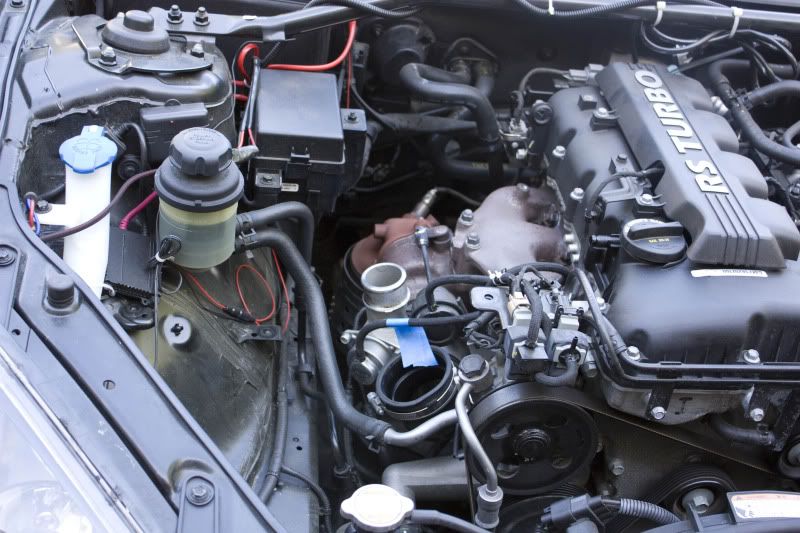 My uncle lol
My cousin came later and helped out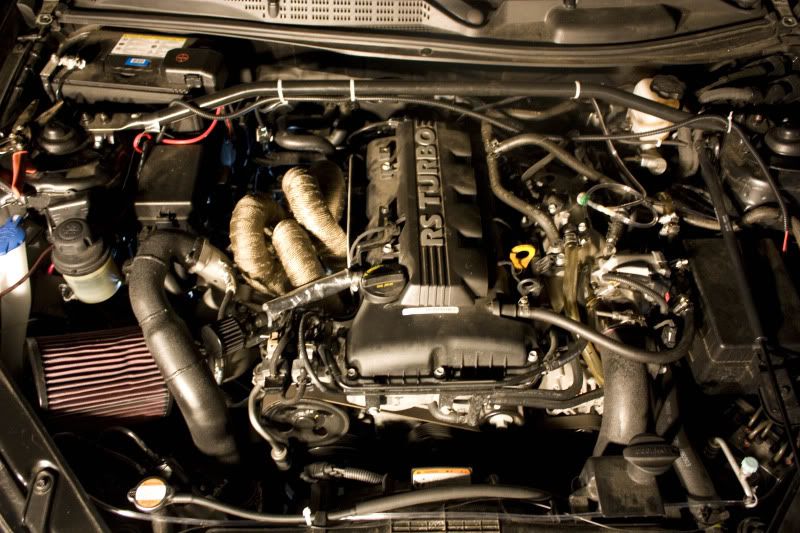 This was on a dynomite dyno, which the tuner at AMS said the numbers compare directly with Dynojet numbers.
And here are some videos for your viewing pleasure:
YouTube - IMG 0440
YouTube - Genesis Coupe Tunnel Fun
YouTube - Genesis Coupe Evo X Turbo Rev
YouTube - Genesis Coupe Turbo XS TBE
---
Last edited by GCkid; 05-08-2011 at

09:29 PM

.
Veteran
Join Date: Feb 2009
Location: Midwest
Posts: 162
Damn, that's a thing of beauty!
---
--boozysmurf
"It's 106 miles to Chicago, we've got a full tank of gas, half a pack of cigarettes, it's dark and we're wearing sunglasses." - Elwood Blues
Nice numbers there man! Just one thing I have to complain about:
the bright green color of text is really hard to read XD
---
넌 날 벗어날 수 없어, 한국의 힘.
Black GenCoupe, 2.0T Track. Work In Progress.
M&S Volk AEM AGP HKS Hankook TiC Lovefab PowerAxel Beyond Redline
Wow, that is just short of any comparable EVO X with those mods. Do you have any internals upgraded, how about the transmission also?

Also, how much have you invested to this point?
Kid those are phenominal #s IMO on the 2.0 A/T & definately got to be the strongest 2.0t A/T up to this point...congrats & props!
---
Sponsored By: Columbus Body Works / ARK Performance / Modern Automotive Performance / Forged Performance
Senior Member
Join Date: Feb 2011
Posts: 58
Very nice, but still on stock internals?
---
DD 2011 Genesis Coupe 2.0t Mirabeau Blue Pearl
1967 Chevelle malibu, 1990 Supra MK3 N/A, 2004 Suzuki GSX-R 750
---
Sponsored By: Columbus Body Works / ARK Performance / Modern Automotive Performance / Forged Performance
Posting Rules

You may not post new threads

You may not post replies

You may not post attachments

You may not edit your posts

---

HTML code is Off

---